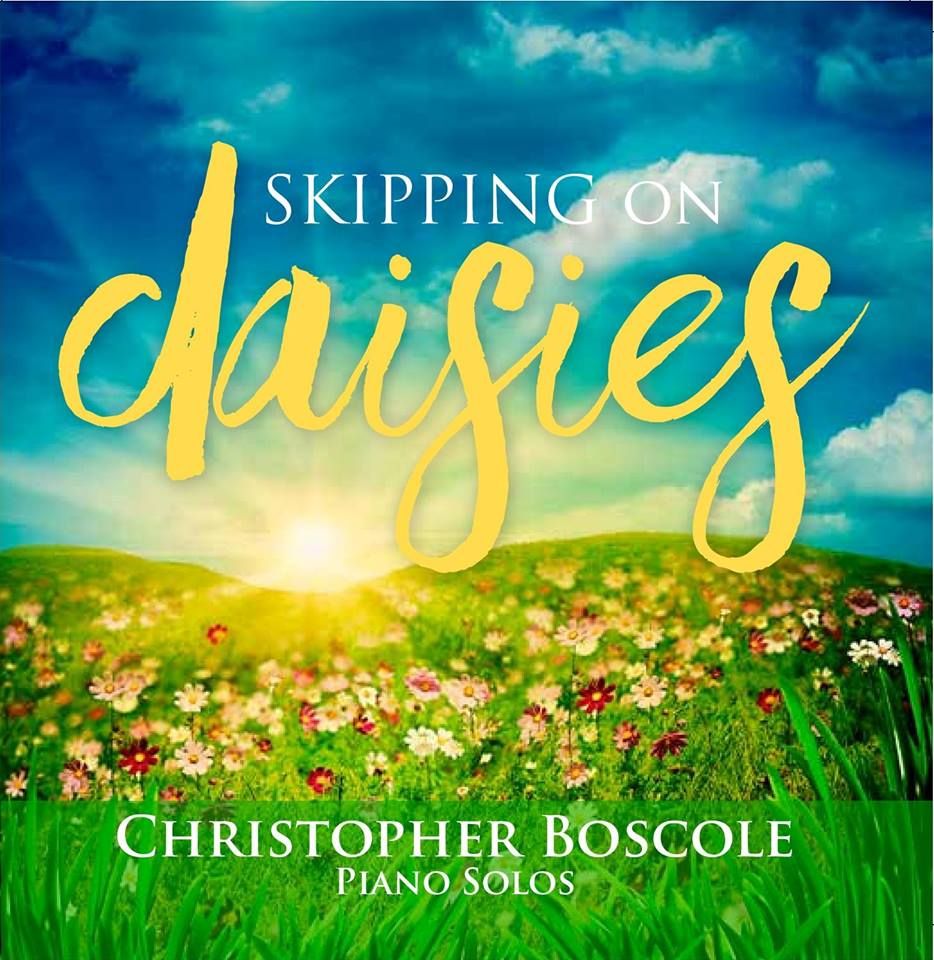 Michael Diamond 
5.0 out of 5 stars Review excerpt from Music and Media Focus 
Reviewed in the United States on June 21, 2016 
When it comes to the music of pianist/composer Christopher Boscole the one thing I've come to expect is the unexpected. This is the third album from him that I've had the pleasure of writing about, and each one has a bit of a different focus or flavor. On this latest release, "Skipping on Daisies," Christopher goes for a more light-hearted feel, which he describes as "solo piano compositions that are happy, lyrical, magical, and dreaming, reminiscent of new age and neoclassical mysticism." 
Opening with the title song, the mood is indeed quite effulgent, radiating warmth and joy, which draw the listener into Christopher's tropical paradise. The melody is simple yet catchy and seems to be more about creating an atmosphere than dazzling with technique or frills. But I'd imagine that it would be difficult to not be in a cheerful space after listening to this uplifting tune. The next song, "Suite Wonder," has a quieter, more reflective feel portraying a sense of innocence and awe that is quite endearing. Following along these lines, the next two songs, "Three Fairies," and "Toy Bells" reflect on child-like themes. 
The only non-original composition on the album is an arrangement by Christopher entitled "Variation On Chopin Nocturne." But it was nice to hear this facet of Christopher's musical spectrum reflected in contrast to his original music. One of the things I find fascinating about Christopher is that while he is well versed in classical music composition, he is also quite adept at improvisation, and "Universe" is an excellent example of that with a bit of a new age music feel. There is a yin yang balance in the density of his notes on the keyboard, clustered like stars in the center of the Milky Way, and the spacious feeling the song evokes. 
Although there are no lyrics on these purely instrumental tracks, a number of universal and spiritual themes are portrayed in titles like: "Prayer Of Hope," "Universe," "Princess Of Peace," "Wonder Suite," and "Procession Of The Angels." One of my favorites on the album was "Prayer Of Hope," which is absolutely gorgeous and inspiring. The more I hear of Christopher Boscole's music, the more impressed I am with his versatility and expressiveness. Christopher has a remarkable talent for translating moods and environments into music. The ability to shift between classical compositions and pure improvisation, while being so fluent in each is a skill that makes Christopher stand out in the popular field of solo piano artists. "Skipping On Daisies" is an album that brings all of Christopher's diverse talents to bear in a light-hearted and uplifting listening experience. 
To read a full-length feature article on this album, as well as others, please visit: MichaelDiamondMusic.com 
--------------------------------------------------------------------------------------------------------------------
Candice Michelle 
5.0 out of 5 stars Review from Journeyscapes Radio 
Reviewed in the United States on July 11, 2016 
"Skipping on Daisies" is the tenth release from versatile pianist and composer Christopher Boscole. Comprised of fourteen compositions spanning seventy-six minutes, the album's musical essence is perfectly captured by its accompanying brightly colored artwork, which depicts a field of daises beneath a radiant sun and deep blue sky. 
The whimsical-natured title track opens in a high register, dancing about melodically and gracefully. Conveying a warmth and joy throughout, it's like pulling back the curtains first thing upon waking and letting in the morning sunlight. This positively peaceful mood continues into "Suite Wonder", a gentler piece imbued with a sense of romance that touches upon cherished memories, and eventually finds its counterpart, "Wonder Suite", further along the album. "Three Fairies" is a sweetly buoyant composition that easily paints a picture of an enchanted garden or magical world of childlike wonder and innocence. Subtly switching melodies about a third of the way through, it soon reverts back to its initial stanza, as it moves through the high and low registers of the piano. One particular highlight is "Variation on Chopin Nocturne", a slower-paced number of a more classical fare that beckons a moment of pause to reflect and unwind. The rich and enveloping "Universe" is easily my favorite piece on the album and certainly the most intriguing. Sparse piano notes glide upon a constant flow of cascading keys like that of a bubbling brook, while radiating a constant stream of varying colors throughout. Perfectly timed at over seven minutes, the notably classical signature begets a perfectly understated yet riveting composition. "Raindrops in A Minor" is another favorite piece that seems to perfectly capture the beautiful mystique of a light rain-shower in the sunshine. Casting a welcomed bit of shadow, this lovely composition moves captivatingly through the registers with such grace, ease and fluidity. Next to the last track is "Celestial Sailing", another favorite that moves along in a similar vein as "Universe". Imbued with a heavenly aura, it feels like drifting away on a cloud while viewing a harmonious and paradisal world below. Likewise clocking in at over seven minutes, I especially appreciate when Christopher slips into this mode. "Be Happy" is the album's final piece and gently imparts its simple message of hope and optimism. Graced with sentimentality, this soulfully elevating tune leaves the listener with an overall feeling of peace and renewal. 
Possessing a piano-playing style that is impeccably flowing and radiant, I'm simply amazed by the seemingly effortless output of Christopher Boscole's own two hands! Additionally, perhaps it's no coincidence that daisies are long-held symbols of childhood, innocence and purity, as the title of this album couldn't be more fitting, nor the music more exemplary of these themes. Exuding throughout a heart-warming comfort and joy, "Skipping on Daisies" is not to be missed by fans of positively uplifting neoclassical and solo piano music. 
-----------------------------------------------------------------------------------------------------------------------
Kathy Parsons 
5.0 out of 5 stars From MainlyPiano 
Reviewed in the United States on June 18, 2016 
"Skipping On Daisies" is the tenth album from pianist/composer Christopher Boscole. This album is solo piano except for a few places where Boscole hums - a part of his creative process. The music was recorded on a 9' Steinway and digitally mastered by Joe Bongiorno at his Piano Haven Studio. Boscole is a very versatile artist with an extensive background in classical music and jazz as well as teaching and concert performances. There is an interesting variety of music and musical styles in the fourteen tracks on Skipping on Daisies, but what they have in common is a lightness and a sunny, optimistic attitude. Don't misunderstand - this is not musical cotton-candy - there is plenty of substance as well as beauty and vibrance. 
"Skipping On Daisies" begins with the title track, a beautiful bit of pianistic sunshine. I love daisies for their carefree innocence and this piece captures that quality perfectly. "Suite Wonder" has a gentle grace that suggests the wide-eyed wonder that comes with magical moments or being in inspiring places that leave you breathless. "Three Fairies" is a much bigger and more dynamic work. It would be fun to know the inspiration for it, but it's easy to imagine any number of stories behind it. Sometimes light and fanciful, and sometimes darker and more dramatic, it's a fascinating piece! "Toy Bells" sparkles and dances in the upper registers of the piano - pure joy set to music. "Variation on Chopin Nocturne" is a new take on one of my favorite pieces to play - Chopin's most famous nocturne. While staying true to Chopin's intentions for the piece, Boscole infuses this well-known masterpiece with his own artistry - a favorite! "Voyage of the Keys" takes us on a mini-adventure that is upbeat and smooth. "Prayer of Hope" is another favorite. In constant motion, it conveys a fervent message of hope and understanding. "Universe" is amazing. More abstract and ambient than the other pieces on the album, it beautifully expresses vast openness and constant motion. "Wonder Suite" is not the same piece as "Suite Wonder," but has a similar feeling and lightness. The piano is the perfect instrument for describing rain, and Boscole's "Raindrops in A Minor" is an excellent example. Sometimes a light shower with delicate raindrops dancing on water, and sometimes a heavier downpour, this another favorite. "Procession of the Angels" is so tender and graceful that it is almost fragile. "Celestial Sailing" is another more ambient piece that takes us on a cruise through the heavens, perfectly relaxed and at peace. Boscole sums up the message of this album with his closing piece, "Be Happy." Warm, peaceful, and soothing, it's a lovely close to an exceptional album. 
"Skipping On Daisies" proves once again what an accomplished pianist and composer Christopher Boscole is. Very highly recommended!