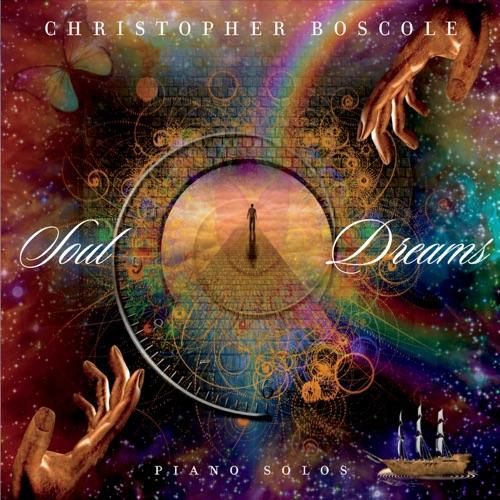 Candice Michelle 
5.0 out of 5 stars At once expressive and colorful yet serene and introspective 
Reviewed in the United States on January 22, 2018 
Soul Dreams is the eleventh album by pianist and composer Christopher Boscole. A Pacific Northwest native who currently resides in Hawaii, Christopher draws much of his artistic inspiration from the scenic beauty of his surroundings and sailing around the islands, infusing a colorful atmosphere of warmth, leisure and serenity into his lovely compositions. A formally trained pianist who holds three degrees in music, Christopher cites several notable composers as influences, as is often reflected in his own musical style of which spans the jazz, neoclassical and contemporary instrumental genres. Perfectly depicted by its dreamily beautiful artwork, his latest album, Soul Dreams, features twelve solo piano compositions that span approximately an hour. 
Like finding the elusive end of a rainbow, "New Hope" opens the album on a serenely optimistic note with Christopher's hands seeming to glide effortlessly across the keys. Played primarily in the higher range with resonating chords in the lower range, the effect can be likened to watching sunlight shimmering upon a body of water gently rippling in the wind. One of my favorite pieces on the album is "Heart Traveler", which seemingly conveys a contemplative sense of searching for someone or something. Supremely elegant with touches of classical and jazz, the gentle composition mostly hovers in the mid-range as Christopher plays in a graceful, flowing manner. "To See You Again" is another highlight that exudes an air of hopeful longing, as one might perhaps envision the smiling face of a loved one as the sun's radiant glow shines upon them. The ensuing "Empathy" is a slower-paced and thoughtful piece that recalls a bit of David Nevue, of whom Christopher cites as among his musical influences. 
My three absolute favorite compositions on the album are grouped among its latter half, with the first of these being the title track, "Soul Dreams". Here, spiraling chords in the mid-range remain sustained throughout, as they're accentuated by tinkling notes in the higher register. A dreamy, almost cosmic-sounding piece, it seemingly alludes to the spiral shapes found throughout nature, of which includes everything from seashells to the Milky Way Galaxy. Similarly in this mode is the cleverly-named "Mistery", which effectively recalls Michael Jones (who is another one of Christopher's influences) and in particular, his Seascapes album that was released on Narada Records in the mid-80's. Essentially an improvisational, unbounded soundscape, the piece is characterized by continuously cascading and sparkling chords that seemingly mimic a light rain-shower in the wind, as sunlight softly peers through grey skies. Christopher once again slips into this mode on the closing piece, "Suite Sunshine", which exudes a supernal warmth and overall sense of divine love expressed through nature's beauty. 
Conveying a reflective mood and tender romance wrapped in a wondrous awe of the natural world around us, Soul Dreams is at once expressive and colorful yet serene and introspective. Equally on par with Christopher Boscole's previous album, Skipping on Daisies, fans especially of David Nevue, Michael Jones and Peter Kater are highly encouraged to check out this outstanding follow-up! 
------------------------------------------------------------------------------------------------------------------------
Kathy Parsons 
5.0 out of 5 stars From MainlyPiano 
Reviewed in the United States on January 22, 2018 
"Soul Dreams" is the eleventh release from pianist/composer Christopher Boscole, and I think it's my favorite of his recordings so far. Like his previous album, "Skipping On Daisies" (2016), the music on "Soul Dreams" is infused with joy and a lightness that can provide a warm and peaceful respite from our stressful world. A Pacific Northwest native, Boscole released his first album in 1986. He has been living and sailing in Hawaii for the past several years, surrounded by the lush beauty and vibrant colors of the Hawaiian Islands. It is no wonder that his music has taken on similar characteristics. 
The first seven of the twelve tracks on the album are more classically-structured and melodic while the last few pieces are freer and more ambient. Boscole composed all of the music and recorded it on a 9' Steinway D grand piano. Joe Bongiorno at Piano Haven Studios did the digital mastering. 
"Soul Dreams" begins with "New Hope," a piece that flows smoothly and with just enough positive energy to keep it always moving forward. "Polyana" is a favorite. Sunny and optimistic with a grace that is sure to charm, this lovely piece feels like an encouraging smile from a dear friend. "Heart Traveler" is very light and buoyant like sunlight dancing on gently undulating water. "Happy Day" seems to express the satisfaction and peace of mind that come from a really good day that leaves you tired but very contented. "To See You Again" has a wistful sense of longing that is both beautiful and poignant. "Empathy" is another favorite with its heartfelt message of hope. Tender yet very expressive and deeply emotional, it's a beauty! I also really like "The Question," a piece that is somewhat darker than the others and makes very effective use of the deep bass of the piano. Gorgeous! "Souls Journey" is one of the more ambient pieces - delicate, relaxed and very expressive. The title track is also freely-structured and flowing with an ethereal touch that isn't all that common on the piano. Sometimes almost misty and sometimes sparkling brightly, it very effectively expresses the feeling of a dream. "Peace Of the Soul" is exceptionally soothing with fluid rhythms and a delicate touch. It expresses the freedom of improvisation, drifting from one passage to the next as the music wills it to go. "Mistery" shimmers and floats effortlessly, dancing gracefully on peaceful ripples of sound. "Suite Sunshine" brings the album to a close with a very blissful feeling of warmth and calm. The spare, open melody is surrounded by quiet tremolo that sparkles as it soothes. 
If you are looking for solo piano music for relaxation or meditation, "Soul Dreams" should do the trick. I don't recommend putting it in your wake-up alarm, but in this case, that's a good thing! Recommended!